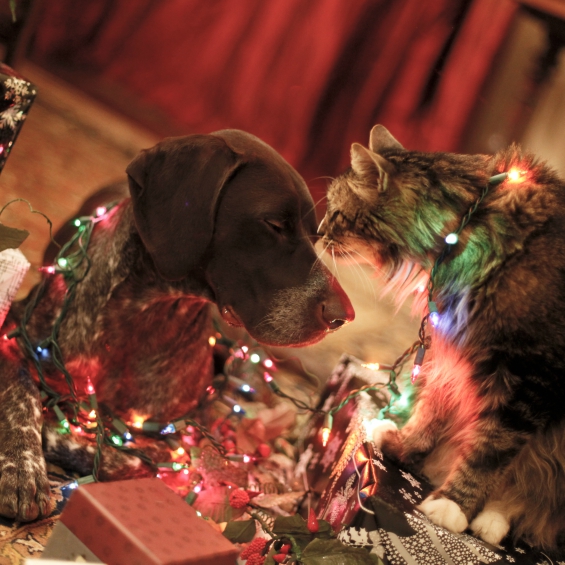 Christmas Pet Safety Checklist
by Lauren Samet
01/12/2018
With the festive season approaching, sometimes anticipating your pets' needs can slip your mind amidst all the party prep. That's where we come in; here are some tips to make sure you and your pets have a very merry Christmas period.
The Christmas Tree
For cats and dogs, decorations around the house can be potentially dangerous, if not given the proper consideration. The traditional tree, for example, could lead to any number of accidents.
Tinsel, glass baubles and fairy lights are all targets for pets who love to chew or play, and over-active tails – keep these decorations high on the tree. Climbing cats and larger dogs can pose risk to the balance of the tree. Cats, especially, find it very tempting to explore the new addition to a room; supporting the base securely or to a wall can avoid Christmas catastrophes.
As for the tree itself, they're not poisonous to pets normally, although some people spray toxic chemicals on their trees to prevent needle drop. Tree sap can also cause digestive irritation if licked by curious pets. Needles can cause irritation to eyes or in between foot pads – keep an eye out for scratching pets.
Household Decorations
Around the house, other decorations may tempt mischievous pets. Your cat may not take lightly to your novelty gadgets (like dancing Santas) and pets with chewing habits may be attracted to electrical wires. Ensure these are covered if possible or out of their reach. Speaking of lights, be extremely careful and conscious about candles, open fireplaces and any other open flames – you don't want any singed whiskers this season.
Many of the traditional holiday flowers and berries also cause cats and dogs serious harm if ingested: holly, ivy, mistletoe, poinsettias and yew should be kept out of their reach and cleaned immediately if they fall to the floor. Chocolate – a well-known poison to cats and dogs – is sometimes used as decorations on trees, so needs to be kept out of reach of those looking for an extra festive treat.
Festive Foods
Much like us, pets will be trying to eat as much as possible this time of year. You must be conscious of what's poisonous to cats and dogs; Xylitol, found in foods like jellies, sugar-free sweets and jams, will upset your pets' stomach. Mince pies and Christmas puddings contain raisins, another toxic food to pets. Walnuts and macadamias are also poisonous to dogs (also be careful with any sharp flyaway shell pieces).
As for the dinner itself, it goes without saying that any and all alcohol is poisonous, but cream-based drinks can be particularly attractive to cats and dogs. The turkey, meanwhile, poses a different hazard: its bones can splinter in pets' mouths and cause damage in their digestive system, whilst fatty trimmings can lead to health problems like pancreatic cancer in some. Lastly, a sudden change in diet can simply cause an upset stomach and result in vomiting and diarrhoea.
Celebrations
Large social gatherings can be stressful for meeker animals, so take them into consideration over the holidays when friends and family come to visit. This also goes for if you are planning to visit others, too – taking your pets' normal food can remove one stress from their trip, as well as giving them a quiet space to retreat to when things get too rowdy.
Speaking of noise, crackers and party poppers can be a nightmare for anxious pets. There are silent alternatives if they're particularly affected by sudden noises or simply avoid them altogether. Don't forget about New Year's fireworks too, and plan ahead to keep them relaxed and calm during the celebrations.
Being Given as Presents
As the saying goes "a dog is for life, not just for Christmas". Animal shelters still see pet relinquishment rates soar in January, due to pets being given as unwanted gifts or realising the care they require is too much. Why not sponsor an animal instead from a charity or shelter instead?
DigestiAid for Cats and Dogs
Following these tips can help you keep your pet happy and healthy over the Christmas holidays. Although, if you are tempted to treat your pet over the busy period, then Vitapaws DigestiAid for Dogs or Vitapaws DigestiAid for Cats could be a useful stocking filler for your dear companions.
DigestiAid's combination of probiotic bacteria, fibre and digestive enzymes can help support the protection and restoration of normal digestive function. To ensure a very merry Christmas to your pet find out more here.
ALL PET NEWS