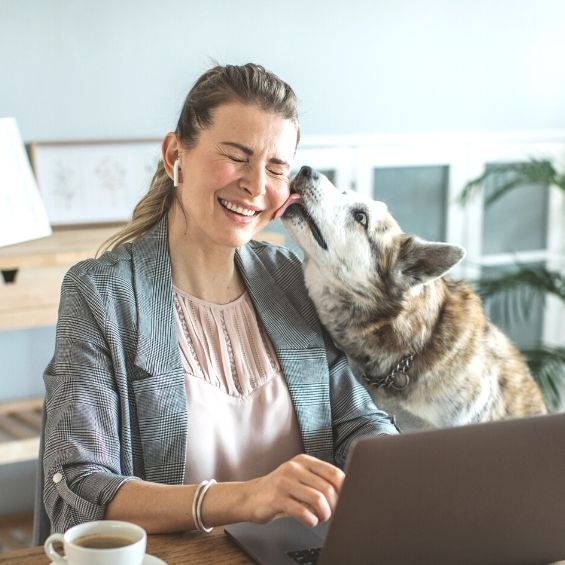 Covid and Its Impact on UK Pets
by Lauren Samet
22/07/2021
Covid has had a big impact globally and here in the UK it's impact on social and economic factors has led to approximately half of UK adults reporting that their level of well-being has been affected, with 4 in 5 adults in Great Britain saying they were very worried about the effect that the coronavirus is having on their life right now (Office of National Statistics, 2020). These figures indicate the toll the pandemic has taken on our happiness and stress levels, but how has it impacted our pets?
During the last 16 months many researchers have been busy investigating exactly this. Kindly participating with numerous surveys over the pandemic period, many pet owners have been describing the highs and lows of lockdown life with their pets.
Pets in the Home
Lockdown meant home schooling, working from home, and limitations on daily outdoor access, which led to humans and pets alike spending more time at home.
80% of dog owners reported changes in their dog's routine, with only 1 in 5 owners (20%) stating their dog's routine had not changed compared with pre-lockdown (Dogs Trust, 2020).
Possibly as a result of less opportunities to take dogs out for walks, more owners said they were playing more and introducing more activities into their dogs' routines to keep their dogs busy and occupied whilst at home - searching for hidden food or toys were popular games as was training and general toy play (Shoesmith et al., 2021; Holland et al., 2021).
Many pets spent less time alone and were left less often meaning they spent more time with household adults and children. This could be a good or bad thing depending on all parties' preferences and ability to cope with the additional company.
Out and About
Exercise and travel restrictions aimed to reduce virus spread led to changes in walking routines for dogs. With uncertainty about virus transmission between species, many cats were kept indoors or restricted in outdoor access.
Travel restrictions and advice to #stayhome meant that many dogs had fewer walks, were kept on the lead more and/or restricted to local walking routes rather than traveling to scenic spots to exercise (Christley et al., 2021; Holland et al., 2021; Owczarczak-Garstecka et al., 2021).
Some owners found it harder when out with their dogs to avoid other walkers and prevent their pets from socialising. Some new owners of puppies also worried what impact this lack of socialising out and about would have on their dog's development (Holland et al., 2021).
Owners valued the opportunity to walk their dog(s) as part of their permitted daily exercise, but some felt that lockdown restrictions on exercise did not allow them to provide their dog(s) with sufficient exercise (Christley et al., 2021).
Pets' Behaviours
For many animals, periods of intense change can impact their stress levels and behaviour. Some animals enjoyed having the increased company that lockdown brought but owners worried their pets may struggle to return to normal.
Some pets showed signs of behavioural change that were consistent with stress. Shoesmith and colleagues (2021) study found 11.0% of owners said that their animal seemed more unsettled, and 5.9% reported that their animal appeared more anxious or easily scared.
Many owners said they enjoyed spending more time than usual with their dog but understood that spending increased time with them may lead to their dog struggling in the future when left alone. In spite of this, very few owners gave, or were able to give, their dogs "alone time" during the lockdown to help try and prevent this.
Shoesmith et al., (2021) noted marked differences between pet species in terms of their behaviour during lockdown periods. Approximately a third of companion animal owners reported their cats and dogs increased following behaviour (approximately twice the value of other pet species).
Unfortunately, just over a quarter of owners reported their dog showed at least one new problem behaviour during lockdown (Dogs Trust, 2020). If you are experiencing this too with your pet then you are not alone. Barking, whining or attention seeking, signs of separation anxiety, and growling/snapping at children were just some of the examples, likely related to factors surrounding less opportunity for dogs to socialise, spend time alone and avoid stress (Dogs Trust, 2020).
Shoesmith's research team (2021) reported that between 10–15% of all owners surveyed reported that their dogs and cats appeared to be more energetic and playful; 20–30% of owners indicated their animal seemed more relaxed and many owners also reported improvements rather than deteriorations in their animal's physical condition.
Shoesmith and colleagues (2021) survey noted that cats were reported to show more positive signs of improved welfare than dogs, and a higher proportion of cat owners reported their companion animal was more affectionate during the lockdown phase compared to owners of other species.
A note on stress and problem behaviours in pets… If you think your cat or dog is struggling to adapt to the "the new normal" or are worried they might do once things return to normal, there are lots of ways to seek help. Many animal welfare charities offer excellent free online behavioural advice with the best up-to-date methods (Dogs Trust, Cats Protection, Woodgreen the Animals' Charity, Blue Cross, the RSPCA are just a few examples). Speaking to a vet, a recognised veterinary behaviour specialist or trusted pet behaviourists are also options. Many issues with animals' behaviours take time and consistency to build and create new habits or routines to allow the animal to learn. Patience and positive reinforcement are the best methods to encourage this learning. Do not overlook the impact of quality rest, exercise, and a balanced diet to support your pets' health during this time. Vitapaws offer the supplement Pet Calm for Dogs to assist in providing some additional dietary support to your dog during these times.
Veterinary Care & Husbandry Concerns
The veterinary field, like many other professions, was significantly impacted by the onset of Covid-19 in early 2020. Practices were disrupted, and veterinary hospitals had to adapt for routines to continue safely. Concerns about limited access to veterinary care and other pet related resources were a concern for many pet owners during the pandemic period.
Kogan et al.'s (2021b) pet guardians survey revealed cat owners concerns about the ability to obtain cat food and supplies alongside and even more so the ability to afford cat food/supplies due to circumstantial changes in the future.
It wasn't only toilet paper that was disappearing off shelves and being bought in bulk; pet food also saw an increase in bulk buying which increased concerns about future availability.
Ratschen et al., (2020) reported that 41% of companion animal owners they surveyed were worried about restricted access to veterinary care.
Kogan et al (2021a; 2021b) noted that dog and cat owners under 30 years of age (compared to older owners) were significantly more concerned about both availability and cost of both emergency and non-emergency veterinary care.
Another concern was the ability to care for a pet if the owner was to become ill. However only 60% of dog owners had identified a caretaker for their dog if needed (Kogan et al., 2021a) and a similar trend was seen for pet cats (Kogan et al., 2021b).
Concerns for zoonotic transmission of the Covid-19 virus between humans and pets was also a concern and many cat owners chose to keep their cats indoors to reduce the risk of possible transmission.
Human-Animal Bonds & Support
It's no secret that for many people their pets have been a life-line during this time, providing companionship, reasons to smile, and love through the difficult period.
In Spain, Bowen et al. (2020) found that pets provided owners with substantial emotional support during confinement, which helped to increase quality of life and manage the emotional effects of the lockdown period.
Kogan et al., (2021b) revealed that over 60% of cat owners reported spending more time with their cat and felt that this strengthened their bond. Unlike for some dog owners, increases in frustration over any undesirable behaviours were not seen.
A survey by the Blue Cross (2020) revealed that 89% of survey respondents who self-identified as suffering from anxiety said their pets had benefitted their wellbeing during lockdown.
Ratschen et al., (2020) indicated that the strength of the human-animal bond in terms of emotional closeness or intimacy appeared to be independent of animal species. Companionship from a pet seemed to mitigate some of the detrimental psychological effects of Covid-19 lockdown - great news for all the rabbit, rodent and reptile owners out there! Unsurprisingly, the vast majority of companion animal owners stated that their animals constituted an important source of emotional support.
Bussolari and colleagues' (2021) survey results highlighted a strong human–animal appreciation, with dog ownership during the pandemic reducing owners' sense of isolation and loneliness, as well as supported their mental/physical health.
Mueller et al.'s (2021) work showed that adolescents with pets spent more time with their pets during the pandemic, frequently reporting that pet interactions were a strategy for coping with stress. However, their overall results did not support the presence of a buffering effect of companion animals on loneliness for adolescents, indicating a complex relationship between pet ownership, attachment, loneliness, and coping with stress.
Pet Sales, Theft, and Importing
With the nation spending more time at home, many people chose this time to get a pet, whether for the first time or to add to their current animal family. The Blue Cross (2020) reported that the breeding and selling of pets in the UK has become a concern since supply of puppies and kittens does not meet demand. Puppy prices have increased during the pandemic, and remain high, alongside the rise in pet theft! Lockdown restrictions have made it harder for people to find trusted sellers and to be sure that they are not supporting the illegal import of puppies, which often involves cruelty, poor welfare and suffering of many puppies and their parents.
Looking Towards the Future
The research seems to reflect the fact that although pets have brought us so much extra comfort, joy and company during this difficult time, the additional responsibility of owning a pet, and the impact on pets themselves, have often caused owners. For pets, the same contradictory findings may also be true - while many have enjoyed the extra company and attention that the lockdown restrictions have brought, many have faced an increase in stress or anxiety caused by the changes in routines. Some have more stress yet to face in the future as we start to return to old routines.
---
References
Bowen, J., Bulbena, A., & Fatjó, J. (2021). The Value of Companion Dogs as a Source of Social Support for Their Owners: Findings From a Pre-pandemic Representative Sample and a Convenience Sample Obtained During the COVID-19 Lockdown in Spain. Frontiers in Psychiatry, 12, 440.
Bussolari, C., Currin-McCulloch, J., Packman, W., Kogan, L., & Erdman, P. (2021). "I Couldn't Have Asked for a Better Quarantine Partner!": Experiences with Companion Dogs during Covid-19. Animals, 11(2), 330.
Christley, R. M., Murray, J. K., Anderson, K. L., Buckland, E. L., Casey, R. A., Harvey, N. D., ... & Upjohn, M. M. (2021). Impact of the First COVID-19 Lockdown on Management of Pet Dogs in the UK. Animals, 11(1), 5.
Dogs Trust (2020). The impact of COVID-19 lockdown restrictions on dogs & dog owners in the UK [online]. Available at: https://www.dogstrust.org.uk/help-advice/research/research-papers/201020_covid%20report_v8.pdf (accessed 01.07.2021)
Holland, K. E., Owczarczak-Garstecka, S. C., Anderson, K. L., Casey, R. A., Christley, R. M., Harris, L., ... & Upjohn, M. M. (2021). "More attention than usual": A thematic analysis of dog ownership experiences in the UK during the first COVID-19 lockdown. Animals, 11(1), 240.
Kogan, L. R., Erdman, P., Bussolari, C., Currin-McCulloch, J., & Packman, W. (2021a). The initial months of COVID-19: Dog owners' veterinary-related concerns. Frontiers in Veterinary Science, 8, 45.
Kogan, L. R., Erdman, P., Currin-McCulloch, J., Bussolari, C., & Packman, W. (2021b). The Impact of COVID on Cat Guardians: Veterinary Issues. Animals, 11(3), 603.
Mueller, M. K., Richer, A. M., Callina, K. S., & Charmaraman, L. (2021). Companion Animal Relationships and Adolescent Loneliness during COVID-19. Animals, 11(3), 885.
Nieforth, L. O., & O'Haire, M. E. (2020). The role of pets in managing uncertainty from COVID-19. Psychological Trauma: Theory, Research, Practice, and Policy, 12(S1), S245–S246. https://doi.org/10.1037/tra0000678
Owczarczak-Garstecka, S. C., Graham, T. M., Archer, D. C., & Westgarth, C. (2021). Dog Walking before and during the COVID-19 Pandemic Lockdown: Experiences of UK Dog Owners. International Journal of Environmental Research and Public Health, 18(12), 6315.
Ratschen E, Shoesmith E, Shahab L, Silva K, Kale D, Toner P, et al. (2020) Human-animal relationships and interactions during the Covid-19 lockdown phase in the UK: Investigating links with mental health and loneliness. PLoS ONE 15(9): e0239397. https://doi.org/10.1371/journal.pone.0239397
Shoesmith, E., Santos de Assis, L., Shahab, L., Ratschen, E., Toner, P., Kale, D., ... & Mills, D. S. (2021). The Perceived Impact of The First UK COVID-19 Lockdown on Companion Animal Welfare and Behaviour: A Mixed-Method Study of Associations with Owner Mental Health. International Journal of Environmental Research and Public Health, 18(11), 6171.
ALL PET NEWS