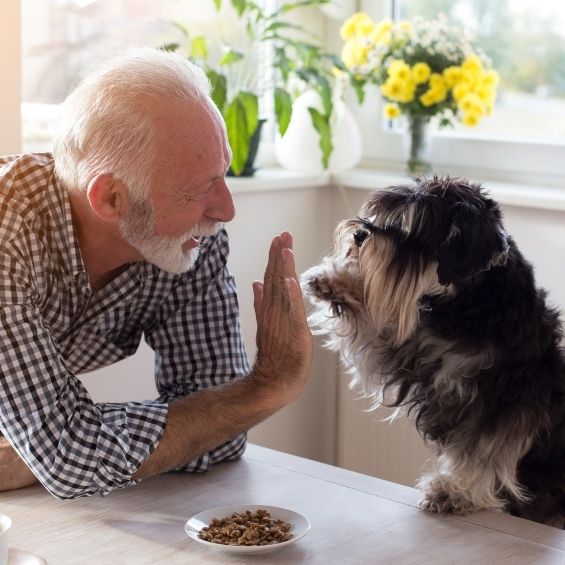 Healthy Treat Ideas for Your Dog
by Lauren Samet
18/11/2021
If you want to feed a healthy treat to your dog then ideally they should be:
Low in salt, sugar and fat
Preservative-free
Unprocessed or have minimal processing
Accounted for within the dog's daily calorie intake and make up no more than 10% of their daily food ration (if not part of their complete diet)
On the "safe" treats list (see below)

Ten Healthy Treat Ideas

Natural peanut butter, the kind that has one ingredient – peanuts! Additives such as salt or sweeteners should be AVOIDED. Xylitol is a common additive found in some brands of peanut butter that is POISONOUS to dogs, do not feed your dog any peanut butter brand if you are unsure of the contents.

A slice of apple or apple peel – just avoid the pips! Be sensible about how big a piece you give your dog to avoid it being a choking hazard (especially if your dog is missing teeth or tends to inhale food!). Dogs occasionally enjoy a bit of sweetness in their life and fed in moderation apple can provide this alongside being a source of fibre. Avoid feeding large amounts of apple or other fruits however as they contain a lot of sugar and can sometimes disrupt a dog's digestive system.

Lean meat or fish – just a little bit of cooked lean, unseasoned, skinless/boneless meat or fish can be an extra tasty reward for a particularly well-behaved dog. If you do have a treat pouch, then make sure these titbits are not left in too long so as to fester at the bottom but they can add a bit of flavour to less exciting treats too. Make sure you cut them up small as a little goes a long way in flavour.

Vitapaws Treats! – If you like your pet treats to multitask, then Vitapaws Pet Treats may be what you are looking for. The Vitapaws range contains DentaSupport and DigestiSupport cat and dog treats, the first designed to support good oral hygiene, the second formulated to support optimal digestive health. Both varieties have a high meat content (>64%) and contain added vitamins and minerals to be nutritional valuable as well as tasty.

Carrot or green beans – some dogs will turn their nose up at vegetables, but others love them and enjoy the variety and crunch! Similar to fruit, avoid feeding too much if your dog is prone to digestive upset.

Complete dog kibble – if your pooch loves his food and is unfussy as to what shape and form it comes in then they might well appreciate some of their normal dog kibbles as much as something bought especially from the treat aisle. Kibble is the perfect pocket-sized treat for taking on walks and keeps well in transit when compared to messier alternatives!

A puzzle or lick it matt – believe it or not, it's not just the food that is the treat but sometimes the delivery! Previous articles have discussed the concept of contra freeloading in dogs (evidence that suggests when offered a choice between provided food, or food that requires effort to obtain, an animal will prefer the food that requires effort). In the right setting, the most enjoyable treat for your dog could be one that comes smeared on a lick it mat stuck to the wall. Alternatively, it could be wedged in a puzzle feeder that requires some skill and concentration to solve. Such opportunities not only encourage physical activity but also cognitive processing (good for aging dogs) as well.

A game with a toy – maybe your dog prefers their tennis ball above all else? Make the most of this calorie-free option and give them what they want most - a game with their favourite toy!

Praise and a fuss – much the same as the idea above, what some dogs really want is some love and affection from their owners. Fussing your dog and praising them with your voice can not only release feel-good chemicals in their brains – but yours too and that's what really makes a "treat" just that - enjoyable!
Foods to Avoid…
Onions, leeks, shallots and garlic
Grapes, raisins, currants and sultanas
Chocolate
Macadamia nuts
Blue cheese
Anything containing xylitol, for example, found in some low-fat fruit yoghurts
Caffeine
And with December just around the corner:
Mince pies
Christmas pudding
Confectionary that may be hanging on the tree or left on coffee tables!
Alcohol – especially the creamy varieties that may appeal to a pet.
ALL PET NEWS