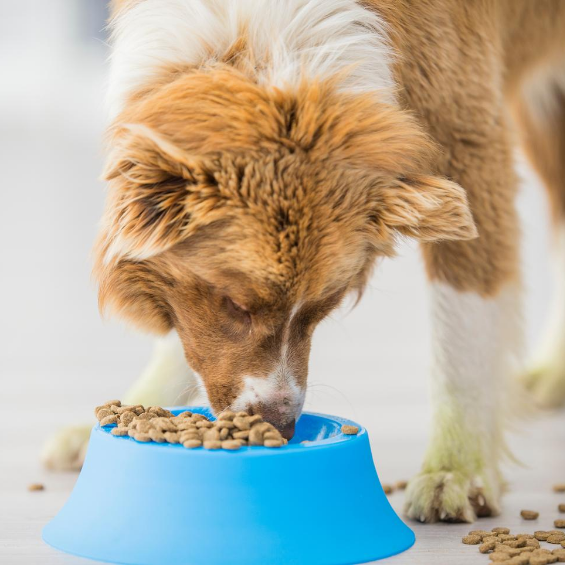 How to Change A Dog's Diet
by Lauren Samet
07/08/2020
Looking to change your dog's diet? Here are a few tips and a guide on how to make the switch…
Things you will need:
Some of your dog's current diet (ideally with access to product information, either from the original packaging or from the product's website).
The new chosen diet (once again with access to product information).
An up-to-date weight for your dog or a reliable body condition score.
Weighing scales for food.
Where to Begin
Whether changing your dog's food or not, it is really important to keep a regular record of either your dog's weight or a body condition score (BCS). Having a non-subjective idea of whether your dog is the right weight for its breed type and shape is crucial when deciding how much to feed them.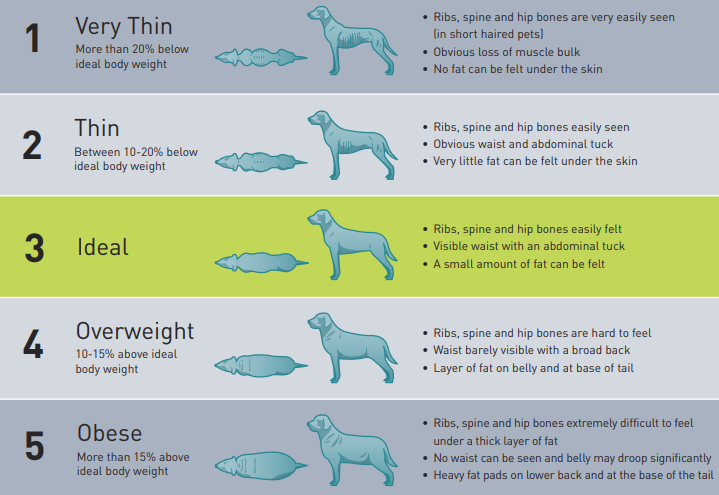 (Figure 1. The PFMA's Size-O-Meter for dogs, one example of the many dog BCSs that exist. Available at: https://www.pfma.org.uk/dog-pet-size-o-meter)
Switching From One Diet to Another
Switching a dog's diet can be carried out over the space of a week or, if your dog is prone to a sensitive digestive system, can be elongated to 10-14 days to allow their body more time to adjust.
Step 1: Weigh out the amount of food you currently feed your dog and divide the number by 4.
Step 2: Calculate the amount of food you will need to feed your dog daily from the new diet, weigh it out, and divide this by 4. (If your dog is overweight you can reduce the total amount to feed daily by 10% until your dog achieves his or her perfect weight).
Step 3: Follow this feeding guide to switch foods…
DAYS
OLD DIET
NEW DIET
Most Dogs
Dogs with Sensitive Stomachs
1-2
1-4
3/4
1/4
3-4
5-8
2/4
2/4
5-6
9-13
1/4
3/4
7
14
---
4/4
Switch Complete!
If a dog has any digestive upsets during the dietary switch, then you can go back a stage or take a few more days before increasing the proportion of the new diet. It can be useful to monitor faecal consistency during this period, which should provide clues on how well your dog is adjusting to the new diet also.
If your dog is a fussy eater and you are anticipating difficulty in changing their diet, check out our tips for fussy eaters.
When to Change
There may be several reasons why you want to change a dog's diet. These include:
Age or Life Stage
Most brands now produce different formulations for varying life stages.
Puppy food, for example, can help support growth by providing higher levels of protein. Many also offer omega 3 for cognitive development.
Senior foods, in contrast, tend to compliment an older dog's slowing metabolism with easier-to-digest ingredients, lower energy content, and ingredients to support joint function.
A common question received by pet nutritionists is when to change their dog from a puppy diet to an adult diet, and similarly from an adult diet to a senior diet. While there is no one universal answer, a general guide can depend on your dog's breed size.
Small breeds tend to reach full size by 12 months (toy dogs even earlier) and many people use this as the time to switch to an adult diet. Meanwhile large and giant breeds can take 18 months to 2 years to reach a fully grown status. Medium breeds tend to fall somewhere between the two. Complete dog foods should provide appropriate nutrition for a dog at any age so some variation in when you switch shouldn't be a problem.
Changing from an adult diet to a senior diet also depends on breed size. Smaller breeds tend to live longer than large or giant breeds, and the aging process tends to reflect this; larger breeds often reaching senior status at a younger age than smaller breeds do. For example, this may be when a smaller dog reaches 10 or 11, while for a large or giant breed this could be at around 7 years old. Ultimately it is the owner's choice and knowledge of their dog that will drive the need for a change.
Click here to view the VitaPaws range of puppy foods and senior dog foods.
Weight Management
To assist dogs with weight gain more of a diet is fed, either through larger portions or additional meals. Therefore, by reason, assisting dogs with weight loss requires feeding a dog less of their diet and reducing the number of treats and non-mealtime food they consume. If success cannot be found by reducing portion sizes, then some people choose to change diet to one that is lower in calories/fat or to one that supports metabolic function.
If you're looking for a lighter option, click here to view the VitaPaws light dog food.
Diet Availability
Sometimes you simply can't get your favourite brand of food in the shops, or a company might discontinue a product. The online VitaPaws dog food and supplement range have an option to select a rolling order, which means you never need to worry about running out and it can be delivered to your doorstep.
Cost of Diet
Sometimes lifestyle changes mean we need affordable good quality pet food that is budget friendly!. With VitaPaws Subscribe & Save you're guaranteed the best price every time, with a saving of 10% off the full price.
Health Reasons
As dogs grow and age their health status and dietary tolerances can sometimes change. Scientific diets (often suggested or promoted by vets) are available and designed to support particular canine health states. However, additionally many complete foods now also contain supplementary ingredients, which can also support anything from joint function, to old age, to smelly stools! Hypoallergenic diets may also be sought if a dog has had intolerance or allergy to a common feed ingredient.
Palatability or Quality
Just like human diets sometimes it's just nice to have a change! There are so many dog foods and flavours available now that even within a single brand there is no need to be satisfied with second best for your dog.
The Vitapaws dog food range comes in a variety of flavours, including chicken, salmon and duck.
ALL PET NEWS